Warning
: include(include/header.php): failed to open stream: No such file or directory in
/home/skkk125/public_html/rollforming.co.in/index.php
on line
35
Warning
: include(include/header.php): failed to open stream: No such file or directory in
/home/skkk125/public_html/rollforming.co.in/index.php
on line
35
Warning
: include(): Failed opening 'include/header.php' for inclusion (include_path='.:/usr/lib/php:/usr/local/lib/php') in
/home/skkk125/public_html/rollforming.co.in/index.php
on line
35
What is Roll Forming Machine?
Roll Forming Machine makes continuous bending operation in which long length strip of metal sheet passing though roller & set perfect shape until cross section profile obtained quality based...
More
How Roll Forming Machine Works
Roll forming Machine is a continuous process for forming sheet, strip or coiled metal stock into long shapes of basically uniform cross-section. The material is fed through multiple pairs of contoured forming rolls...
More
Roll Forming Tolerances
Roll forming Machine dimensional tolerances are depending on stock Material width and thickness, Roller material, the quality of the tooling, machine condition, and Roll Forming Machine operator skill...
More
Welcome to Gurukrupa Industries
Gurukrupa Industries is providing on quality based customize design and manufacturing wide range of roll forming Machine. We offered value added solution from single machine you can found out more than 6 profiles in One Roll Forming Machine. In 2004 we start to learning about roll forming machinery worldwide. More than 5 years we are leading manufacturers in India especially in Gujarat. We never compromise with quality. Customers - out machines successfully working in top rated companies and giving best satisfied service and working of machine. We are advancing in roll forming machinery n giving 100 % performance in it. We are providing roll forming as per customer requirement.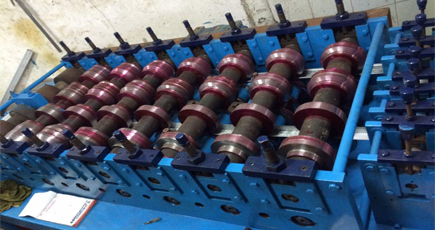 Warning
: include(include/footer.php): failed to open stream: No such file or directory in
/home/skkk125/public_html/rollforming.co.in/index.php
on line
106
Warning
: include(include/footer.php): failed to open stream: No such file or directory in
/home/skkk125/public_html/rollforming.co.in/index.php
on line
106
Warning
: include(): Failed opening 'include/footer.php' for inclusion (include_path='.:/usr/lib/php:/usr/local/lib/php') in
/home/skkk125/public_html/rollforming.co.in/index.php
on line
106